THE GODDESS OF THE LAKE,
ORIGINS OF A MYTH AND THE ROMAN SHIPS OF NEMI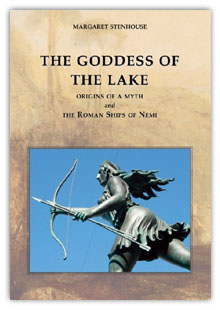 Requests from readers worldwide convinced Margaret Stenhouse to produce this new, updated version of her previous book, "The Goddess of the Lake, Legends and Mysteries of Nemi". Her formation as a journalist means that her theme of the history, archaeology and myths surrounding the little crater lake of Nemi - 30 kms south of Rome - is treated with a light and eminently approachable touch.
Her research into the legends surrounding the mysterious triple goddess Diana-Selene-Hecate, who personified Nature, the Moon and the old Wisewoman took many unexpected twists, leading her to a kaleidoscope of fictitious and real characters, including the Amazon warriors of the Black Sea, the levitating wizard Simon Magus, the Roman General Lucullus, the mad Emperor Caligula, the artist William Turner, the Danish beer magnate Jacobsen, the English Ambassador Lord Savile of Nottingham, James Frazer, author of "The Golden Bough" and many others.
Recent archaeological excavations of Diana's Temple on the lakeside (once one of the most important sanctuaries of the Roman world) have produced interesting new finds that cast new light on some of the mysteries unsolved for centuries. This version of the book also incorporates the fascinating story of the Roman Ships, recovered from the lake bed before WW2.



The Goddess of the Lake, origins of a myth, and the Roman Ships of Nemi
by Margaret Stenhouse 251 pages. Colour and b&w illustrations.. €15 + postage