MOSES HOLDS BACK THE WAVES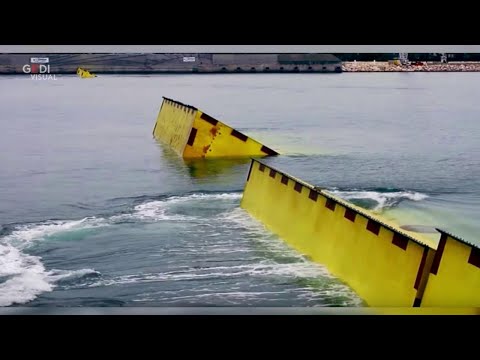 The floodgates of "Moses" have finally gone into action, saving the city of Venice from the habitual situation of flooding during storms and high seas. The recent test successfully held off the dreaded "acqua alta" (high water), when Venetians and tourists alike have to don rubber boots to cross Piazza San Marco.
The mammoth project, involving 4 moveable barriers with a total 78 metal panels, stretching for 1.5 km across the mouth of the lagoon, was approved in 2003, after a long gestation period stretching back to 1966, when one of the most disastrous floods in living memory devastated the city. Even worse floods hit Venice last winter, giving fresh urgency to the project.
The construction was initially opposed by environmentalists who feared that the ecosystem of the lagoon would be compromised if the natural ebb and flow of tides were interrupted. The present project allows the barriers to be raised and lowered according to necessity. The gates are filled with water and lie on the seabed until high tides exceed 110 meters, threatening Venice and its treasures. At that point the water is forced out by compressed air, allowing the barriers to rise and block the tidal invasion.
The Modulo Sperimentale Elettromeccanico (Experimental Electromechanical Module) as the "Moses" is officially called, has still to undergo extensive maintenance and will not be finally completed until 2021.
Info: www.mosevenezia.eu
Posted on 04 Oct 2020 by Editor