THE BATTLE OF THE LENTILS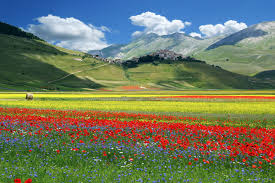 Not many people know that the humble little brown dried lentil has its moment of glory during the summer months when it comes into flower, mingling with thousands of wild flowers and transforming the three valleys of Pian Grande, Pian Piccolo and Pian Perduto (this last within the territory of Marche) in the Sibillini Mountains into a vast carpet of brilliant colours. The phenomenon has become an ever expanding tourist attraction with motorists arriving from all over the region to admire the spectacle. So much so that the mountain roads leading to Castelluccia di Norcia (Umbria), the centre of the lentil cultivation, risk endless bottlenecks during the weekends.
The valley lies between the regions of Umbria and Marche. When the Umbria regional government at Perugia decided to close access during the peak weekends of 3-4 July and 10-11 July in order to avoid nose-to-tail traffic jams trying to reach the village of Castelluccia, Marche protested, along with the mayors of the five other scattered villages, who all rely on day tourists for much needed municipal income.
Meanwhile, the Municipality of Norcia, whose territory encompasses Castelluccio has decreed that on the two critical weekends, prior booking for access will be required in one of five designated parking lots, some of which provide a shuttle bus service.
In latter years, 80,000 visitors have visited the tiny borgo of Castelluccio during the flowering season between mid-May to mid-July. During the last weekend of June an estimated 26,000 cars invaded Pian Grande to see the spectacle of the flowering valley floors.
Posted on 04 Jul 2021 by Editor