UFFIZI IN THE CASTLE OF DANTE'S INFERNO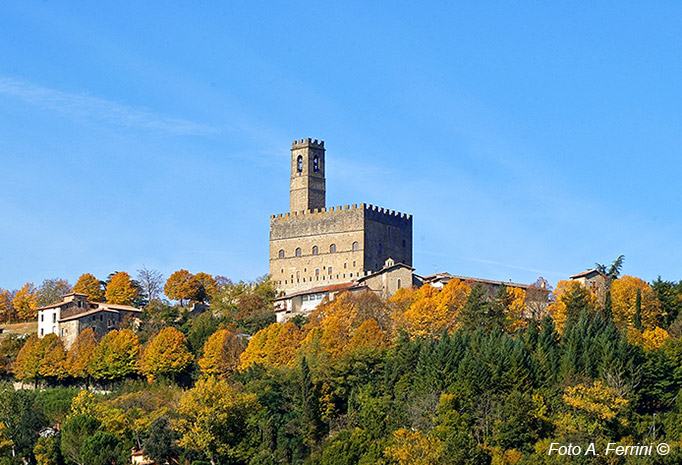 The landmark "Terre degli Uffizi" (Uffizi Lands) itinerant exhibition sparked off on the 17th July in the medieval castle of Poppi, symbol of the Tuscany Casetino Valley, with its sacred La Verna forest. Promoted by the Uffizi Galleries of Florence and the Foundation Cassa di Risparmio, (a non-profit offshoot of the former savings bank of the Grand Duchy of Tuscany) the five exhibitions planned to run throughout the year aim to attract visitors to some of the lesser known historic towns of the area.
The Poppi exhibition, entitled "In the sign of Dante. Casentino in the Divine Comedy" will run until the 30th November 2021 and focusses on Dante's exile from Florence and his long sojourn at the castle of Count Guidi, the overlord of Poppi Castle. While he was there, he composed the XXXIII Canto of the "Inferno", which includes the horror story of Count Ugolino della Gherardesca, imprisoned by his enemy Archbishop Ruggieri and starved to death along with his sons and grandsons.
The exhibition shows works of art dedicated to The Inferno, Purgatory and Paradise. On loan is one of the Uffizi's most recent acquisitions: "Francesca da Rimini in Dante's Inferno" by 19th century artist Nicola Monte as well as seldom seen works such as "St. Francis Marries Poverty" by Beatrice Ancillotti Goretti and sketches by '500 artist Federico Zuccari.
The other exhibitions in this year's series:
San Godenzo (26th July - 5th August 2021): "Dante Alighieri and Andrea Del Castagno return to San Godenzo"
Anghiari (Arezzo - 12th August 2021 - 6th January 2022): "The World of Knights in Arms and the Renaissance Court"
Montespertoli (Florence - 25th August - 10th December 2021): "Valdesa Painters in the Style of Giotto"
Castigioni Fiorentino (Arezzo - 2nd October 2021 - 6th January 2022): "The Last Seal – the Stigmati of St. Francis and the Verna from the Uffizi Galleries Collections"
Posted on 22 Jul 2021 by Editor