OLIVE HARVEST IN THE ROMAN FORUM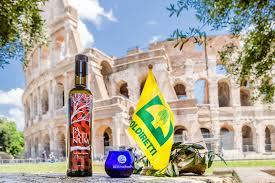 The Archaeological Park of the Colosseum, which encompasses a vast green area of 40 hectares (just under 100 acres) in the heart of Rome, is embarking on its first olive harvest. The Park, which includes the Roman Forum and the Palatine Hill, has 189 olive trees - some venerable "Patriarchs" over a hundred years old, concentrated mainly on the southern slopes of the Palatine Hill, where Rome's emperors had their residences.
The appointment to help with the olive harvest is on the morning of the 28th October 2021, when an olive press will be set up in the in area around the historic Arch of Titus. Organizers expect to produce 120 litres of extra virgin olive oil, which will be marketed under the name "Palatinium" with a label inspired by a fresco design in the Casa dei Grifi on the Palatine.
The initiative is organized by Coldiretti (Confederazione Nazionale Coltivatori Diretti - Italy's major organization representing agricultural entrepreneurs) and the Op Latium organization of olive producers in Lazio.
The Archaeological Park of the Colosseum, however, also produces honey. Some 14 kilos of "Ambrosia del Palatino" were successfully produced this year from the hives positioned near the House of Romulus in a quiet corner of the Palatine Hill rich in variegated plant life.
Next step, according to Park Director Alfonsina Russo, will be wine making from vines planted amidst the remains of the glory of Ancient Rome.
MARGARET STENHOUSE
Info: Tel. +39.06.69984443 www.parcocolosseo.it www.coldiretti.it
Posted on 26 Oct 2021 by Editor