LIBRINO ART GATEWAYS: FROM FACELESS SUBURB TO BEAUTY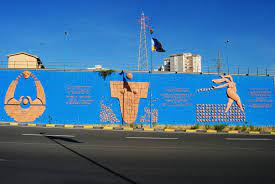 LIBRINO ART GATEWAYS: FROM FACELESS SUBURB TO BEAUTY
The Catania suburb of Librino (Sicily) expects to inaugurate its second terracotta wall by the end of this year 2022. The "Porta delle Farfalle" (Butterfly Gateway) is the brainchild of artist and entrepreneur Antonio Presti, who created some fifteen years ago, the companion "Porta delle Bellezze" (Gateway of Beauty), decorated with over 9 thousand ceramic bas-relief panels and thus transformed Librino, a little known and unattractive suburb of south-west Catania, into a blossoming art centre.
The Porta delle Farfalle is an even more ambitious project than its predecessor. It involves decorating a kilometre-long cement wall with hand-made terracotta panels created by over 5000 art students and 10,000 school children and their families from 9 local schools, under the guide of some 50 artists and architects. The project is sustained by the Presti Foundation and the Intesa Sanpaolo Bank Charity Fund.
In order to transform a featureless flyover into the work of art of the Porta delle Bellezze, Presti involved 2,000 local children and their mothers, who succeeded brilliantly in the task of turning their unappealing suburb of dreary high-rise apartment blocks and featureless streets into an open air art gallery. The 9,000 hand-made terracotta panels, inspired by mythical themes, transform the cement wall into a glowingly warm mural that is fast becoming a tourist attraction.
The wall, however, does more than just beautify an otherwise ugly overpass. It has also transformed the outlook of the inhabitants, who view the work with pride as "something of their own". Presti, in fact, comments with satisfaction that none of the art works have been tampered with or vandalized since the project was terminated in 2009.
The "Porta delle Farfalle" extension will create a total 1 ½ kilometres of decorated walls, making this what may be the longest bas-relief terracotta sculpture in the world to-day.
Info: Tel. +39.349.223.1802 www.ioamolibrino.it
Posted on 14 Jan 2022 by Editor