ART POLICE SAVE ITALY'S HISTORIC STATION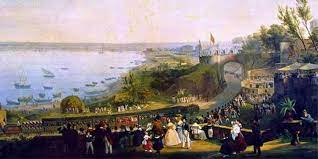 ART POLICE SAVE ITALY'S HISTORIC STATION
The Naples branch of Italy's crack corp of police dedicated to the preservation of Italy's cultural heritage, have placed the Bayard railway station – the country's oldest – under a conservation order to save it from threatened demolition. The Bayard station is the departure point of Italy's first train line, connecting Naples with Portici. The line was inaugurated with great pomp by the King of the Two Sicilies, Ferdinando II, in 1839 and the event was immortalized by the court painter Salvatore Fergola.
The journey of 7.25 kms was covered in 9 ½ minutes. There were 8 carriages drawn by a steam engine built by the English company Longridge, which the locals nicknamed "Vesuvius". The line was subsequently expanded to include Castellammare di Stabia, Pompeii, Angri, Nocera Umbra and with a proposed link to Avellino.
The station functioned until 1866, when it was downgraded with the opening of Naples Central station and the Bayard Station and depot fell into disuse.
It is now partly incorporated into the Pietrasso Locomotive Museum. Italian Railway (Ferrovie dello Stato) have expressed interest in relaunching the station as part of its successful historic train trips operation, with view to connecting towns like Gragnano, known as the Capital of Pasta, and tourist resort towns on the Bay of Naples.
M. STENHOUSE
Info: Tel. +39.06.44103000 www.trenitalia.com/it/fondazione-fs.html
Posted on 23 Feb 2023 by Editor