CREMONA: VIOLINS AND MORE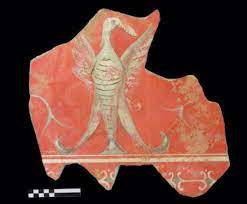 CREMONA: VIOLINS AND MORE
Cremona, the "City of Violins", has expanded its considerable cultural attractions to include Ancient Roman art. The celebrated Violin Museum is staging an exhibition of fragments of Roman murals found during excavation campaigns of luxurious Roman residences in the city centre over the past twenty years.
The title: "Pictura Tactitum Poema", with subtitle: "Myths and Scenes from the Cremona Domus" is on show until the 21st May 2023. Of particular interest is the cycle relating to the Myth of Arianna, who helped the Greek warrior Theseus to escape from the Labyrinth after he had slain the Minotaur, and who was subsequently abandoned on the Island of Naxos by the ungrateful hero. Luckily she caught the eye of the God of Wine Dionysus who rescued her. Included among the exhibits are also votive objects from the Archaeological Museum of Mantova, Ostia Antica and Pompeii centred round the cult of the Roman household gods, known as Lares.
This is also a good opportunity to visit the museum's fascinating collection of stringed instruments, including the violins produced in Cremona by masters like Stradivari and Guarneri, still considered unsurpassed three centuries later.
Info: Tel. +39.0372.407081 www.musei.comune.cremona.it
Posted on 27 Feb 2023 by Editor