RENAISSANCE ARTIST AND LOCAL FOOTBALL CLUB SHARE HONOURS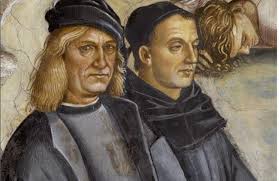 RENAISSANCE ARTIST AND LOCAL FOOTBALL CLUB SHARE HONOURS
2023 marks the 500th anniversary of the death of Luca Signorelli, court painter to Lorenzo il Magnifico and considered to be one of the foremost artists of the Renaissance. Various commemorative initiatives are expected at his birthplace, Cortona (Tuscany) and other places in central Italy where he lived and worked.
Meanwhile, the nearby "Gold City" of Arezzo, known for its goldsmith industry as well as the celebrated annual Joust of the Saracen, a dazzling historic re-enactment of a medieval contest, has decided to pay its own rather quirky tribute to the great artist by pairing his fifth centenary commemoration with that of the first centenary of the local football team, Arezzo Calcio (also referred to as the "Amaranth Purples" after the colour of their football jerseys).
The Joust of the Saracen is traditionally divided into two contests, one in early summer and the other at the beginning of autumn, during which riders compete for the traditional prize of the Golden Lance. The San Donato trophy, programmed this year on 17th June, dedicates the Golden Lance to Luca Signorelli, while the second leg, known as the Joust of the Madonna of Consolation, on the 3rd September, assigns the Golden Lance to Arezzo Calcio.
A more traditional commemoration has been set up at Cortona, where the Museum of the Diocese of Arezzo-Cortona-Sansepolcro, in the 16th century church of the Confraternity of Jesus, has the most important collection of Signorelli's works, including masterpieces like "the Lamentation over the Dead Christ" and "the Communion of the Apostles." The museum was first opened in 1923 as part of the Signorelli 4th centenary celebrations and has now been renovated and re-fitted specially in honour of this new important landmark.
M.STENHOUSE
Info: Diocese Museum of Cortona. Tel. +39.0577.286300 booking@operalaboratori.com
Posted on 20 Apr 2023 by Editor