FISHERMEN'S TALES AT CERVIA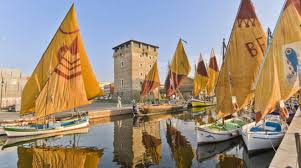 The Salt Museum of Cervia (MUSA) is opening its doors for a special photographic exhibition centred on the sea and the life of fishermen. The "Gente di Mare" (People of the Sea) exhibition also features local fishermen who will exhibit various techniques of their trade, like mending nets and tying knots.
Visitors can also watch the ancient technique of sail painting, with the traditional designs, colours and symbols, demonstrated by members of "La Pantofla" cultural association. The photographic exhibition is open every evening till the 4th July 2020 between 20.30 till midnight, with "fishermen's tales" every evening Tuesday to Saturday during the period.
Info: Tel. +39.0544.979302 www.musa.comunecervia.it
Posted on 18 Jun 2020 by Editor