POSITANO'S ROMAN VILLA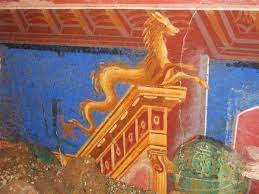 The charming resort of Positano on the Amalfi Coast has long been celebrated for its stunning cliff-side position overlooking the Gulf of Salerno, its unique Positano fashion style and its VIP lifestyle.
But its attractions are not a modern phenomenon. It was a favoured retreat also for the ancient Romans. Evidence of the luxurious lifestyle enjoyed a couple of thousand years ago has been uncovered underneath the Church of Santa Maria Assunta in the heart of the old town.
Although the lavishly decorated villa has been known since the mid 18th century when archaeologists were excavating Pompeii, Herculanum and Stabiae, it has only been brought to light in the last ten years and opened to the public a couple of years ago, after lengthy and delicate restoration work.
The remains of the vast triclinium lie 11m under the medieval crypt of the church. Access has been created through glass and steel stairways and passages in order to not obstruct the view of the excavated dining hall, frescoed with a brightly coloured world of mythological creatures, heroes, gods, birds and animals. The villa was badly damaged during the Pompeii eruption of 79AD and was buried under landslide of pumice stone and mud, which helped preserve the amazing riot of colours.
The owner is thought to have been the rich and powerful Posides Claudi Caesaris, a friend of the emperor Claudius, and from whom Positano took its name
Info: MaR Positano Museo Archeologico Romano
Tel. +39.331 2085821 www.marpositano.it
Posted on 14 Jul 2020 by Editor