Many of Naples' most famous monuments will stay open till midnight on Saturday 30th November and Saturday 28th December 2013. The sites include the National Archaeological Museum, Castel Sant'Elmo, the Royal Palace and the Capodimonte Museum, as well as nearby treasures like the Royal Palace of Caserta and the open-air Temples of Paestum.

18 Nov 2013

More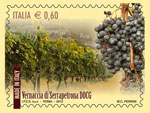 The great grape stock Vernaccia Nera is celebrated again this year in its home territory, the town of Serrapetrona (Marche). The "Appassimenti Aperti" appointment is now into its eight edition.
Sunday 17th November 2013 is the perfect opportunity to taste the Vernaccia di Serrapetrona docg and the Serrapetrona doc in a jolly street party atmosphere.

15 Nov 2013

More
Italy has its own version of the celebrated D´¿½butantes Balls of Vienna, with young girls in white being whirled round the floor by partners in tails. The balls are nostalgic re-enactments of the gracious age of 19th century Austria, which dominated Middle European culture for much of the century following the defeat of Napoleon and are held in Italy's most prestigious palaces.

12 Nov 2013

More
Twelve major wine cellars of Rome, Frosinone and Latina throw open their doors on Sunday, 10th November 2013 for the San Martino Cantine Aperte event. Anyone is welcome to come, taste and admire the results of the recent grape harvest.

09 Nov 2013

More
This weekend (8-10 November 2013) Turin again hosts Artissima, its annual fair of contemporary art, considered the world's fifth most important appointment in its field. The exposition area, set out in the seat of the Oval Lingotto skating rink, will present the best of 190 galleries, 130 of which from abroad, including countries such as Albania, Azerbaigian, the Arab Emirates and the Philipines, which are participating for the first time.

07 Nov 2013

More