The splendid setting of the Villa Bardini Museum of Florence will provide the backdrop for the work of Italy's famous fashion photographer Aldo Fallai, whose long collaboration with Giorgio Armani will be documented in over 200 fashion photographs, covering almost thirty years of collaboration with the Armani atelier.

08 Jan 2014

More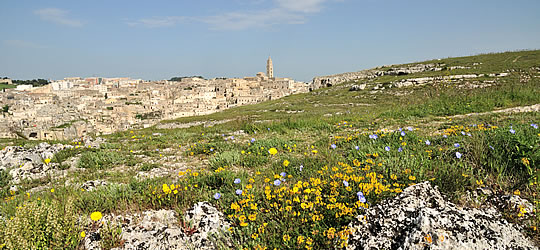 The cave town of Matera (Basilicata), which formed the backdrop for Mel Gibson's film "The Passion of Christ", has put in its bid to be appointed European Capital of Culture 2019. Matera entered the UNESCO list of World Heritage sites of Humanity in 1993 and boasts the unique setting of the "Sassi" (Rocks), former dwellings perched on the cliff-side and tunnelled out of the living rock, ancient frescoed rock-hewn churches and a 13th century romanesque duomo.

05 Jan 2014

More
An unusual combination of archaeology and sweet-making is on show until the 6th January at the Royal Palace of Quisisana at Castellammare, near Naples. A team of master confectioners from the Italian Confectioners' Club have created a series of life-size reproductions of frescoes from the ancient Campania city of Stabiae in a sugar and gelatine paste, coloured with vegetable dyes.

02 Jan 2014

More

23 Dec 2013

Christmas markets are always fun and good places to pick up unusual gifts. Some of Italy's most characteristic Xmas markets are : the historic Piazza Navona market in Rome, with stalls arrayed around Bernini's spectacular River Fountains, the Christmas crib market in Naples Via San Gregorio Armeno, lined with the shops of craftsmen who have been making traditional Presepi (Nativity scenes) for generations and the Alto Adige market at Trento, full of handcrafts, biscuits and bakes.

21 Dec 2013

More