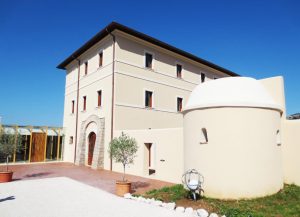 The Cincinnato wine cooperative at Cori (Lazio) has launched into tourism with the restoration of an imposing two hundred-year old farm house, with 15 rooms, a gourmet restaurant, conference room and sports facilities, set on a hill surrounded by vineyards, olive groves and woodlands. The winery, founded 76 years ago, intends to promote the area as a relaxing cultural and farm holiday destination.

01 Oct 2013

More
The best of Italian culinary creativity is on display at the historic town of Foligno, Umbria, this weekend 27-29 September 2013. Twenty-six "villaggi del gusto" ("taste hamlets"), scattered around the town centre, each demonstrating a range of both traditional and innovative dishes, take visitors on a gourmet itinerary lasting until Sunday evening.

28 Sep 2013

More
On Saturday 28 September 2013, as part of the European Heritage Day celebration, Rome's civic museums and archaeological sites throw open their doors with free entry for the public and a series of coordinated cultural events.

26 Sep 2013

More
A full and inviting programme has been set up by the Region of Tuscany, the town councils of Florence and Certaldo, along with the Giovanni Boccaccio national board, to celebrate the seventh centenary of the birth of one of Italy's most famous poets, author of the Decameron.

23 Sep 2013

More
This year's grape harvest promises well, according to Italian wine registries Agrinsieme, Federvini and Unione Italiana Vini (Uiv). Production has increased by 7% compared with 2012, with a total 45 hectolitres. Due to climatic conditions, the grape harvest is taking place some fifteen days later than last year.

19 Sep 2013

More