Despite the present unfavourable economic climate, the Italian cruise company, Costa Crociere, has achieved a highly successful 2008 and announces that it expects to continue on the crest of the wave during 2009.

02 Mar 2009

More
FORGOTTEN RAILWAYS DAY
Forgotten Railways Day on the 1 st March will be marked by over 60 events dedicated to Italy's historic railway tracks. Stretches of railway lines, no longer in use, will be "rediscovered" during a series of excursions on foot and by bicycle, or by trips on special trains running over many highly scenic routes.
For information: www-ferroviedimenticate.it

25 Feb 2009

The Carnival season in Italy doesn't just mean Venice and Viareggio. Carnival revels are in full swing in every town, big and small, in the Italian peninsula.

21 Feb 2009

More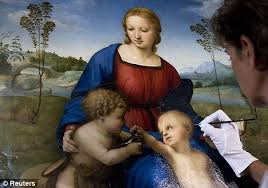 The exhibition "Love, Art and Grace" featuring the newly restored Raphael masterpiece entitled "The Madonna of the Goldfinch" has attracted record numbers of visitors since it opened in the Palazzo Medici Riccardi, Florence, on the 23 rd November 2008.

16 Feb 2009

More
St. Valentine's Day, the annual Festival for Lovers, is one of the best known celebrations in the western world, but how many people know that St. Valentine was an early Christian martyr and that his tomb can still be visited here in Italy?

14 Feb 2009

More