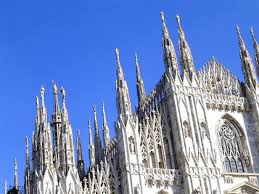 ST.VALENTINE IN MILAN
A giant screen in Milan's Piazza Duomo is busy recording the thousands of love messages being sent via mobile phone from all over Italy. The sender of the most touching and significant message � to be judged by Italian bestselling author of romantic fiction, Federico Moccia � will be nominated "Kiss Writer for a Day", with reference to the famous Perugino Bacio ("Kiss") chocolate manufacturer, which is partner in the event.
Anyone who wants to join in can send a message through the website www.baciperugina.it

13 Feb 2009

Since the 1 st February 2009, booking a holiday in Venice has become easier, thanks to "Venice Connection", the new on-line reservation service set up by the City of Venice.

11 Feb 2009

More
The exhibition "Art, Genius & Madness, the Artist's Day and Night", which opened on the 31 st January in the Complesso Museale Santa Maria della Scala in Siena.....

07 Feb 2009

More
World-famous Italian conductor Claudio Abbado has come out on the side of conservationists by requesting that the city of Milan should plant 90,000 trees on its territory in lieu of his fee for returning to direct the orchestra of La Scala, Milan after a long absence.

04 Feb 2009

More
An American biochemist believes that he has solved the mystery of the magical sound of Stradivari violins.

30 Jan 2009

More