NAPLES NEW ART OF THE STREETS @ 16 Feb 2021
---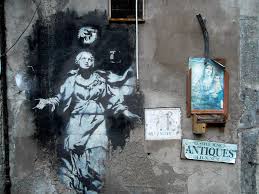 Naples is well -known for its architecture and works of ancient and baroque art. It is less known that the city is full of contemporary art works decorating the poorest and less attractive districts, as an international army of mural painters take over bleak wall spaces and transform them into open air art galleries. The phenomenon has become so widespread that "Street Art" tours for more informed tourists are now offered.
The most famous work is Banksy's "Madonna with a Pistol" in Piazza Girolomini (near the Church of San Lorenzo) that shows the Mother of Christ with a gun instead of a halo floating above her head, symbolizing the connection between religion and organized crime, it being well known that traditional Mafia members attend mass and have their children baptized.
The Parco Merola (better known as the Murals Park) in the Ponticello suburb is a show place of graffiti art, displaying the works of the artists like Dutch-Italian Jorit, Neapolitans Zed 1, Mattia CDO and the Sicilian artists Rosk & Loste. Jorit's Romany child gazing out of the wall with her school books around her and the message in Neapolitan dialect that "All Children are Equal" is the most celebrated.
Jorit's gigantic murals dominate several walls in Naples. In the Y-shaped quarter of Forcello he painted a huge 15 metre-high San Gennaro, Naples' patron saint, with the face of his labourer friend, and on the wall of a high-rise block of flats at the coastal district of San Giovanni a Teduccio he has immortalized the football hero Maradona, lionized in Naples where he played for the Napoli football team. The artist's signature is apparently in one of Maradona's eyes and can allegedly only be seen at sunrise and sunset.
By contrast, the Spanish Quarter is covered with the 223 surreal graffiti of lively little figurines by Neapolitan street artists Cyop & Kaf. Most murals contain political messages, not without a touch of satirical humour, as in"Mission Possible" by Neapolitan street artist Roxy in the Box, with San Gennaro and Caravaggio standing side by side and both reading modern newspapers, while a sad 38 metre-long tribute is paid to journalist Giancarlo Siani, a victim of the criminal organization, the Camorra, painted by Milan artists Wally & Alita on the wall of the house where Siani lived.
And these are only a sample few.....
Info: www.visitnaples.eu
---
News powered by CuteNews - http://cutephp.com