RENATO CASARO: LAST POSTER ARTIST @ 23 Jun 2021
---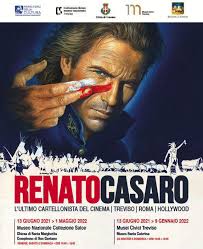 Special for Cinephiles! The National Museum Salce Collection in Treviso (Veneto) is putting on a special show of historic cinema posters as a tribute to the award-winning master of this art, Renato Casaro.
Casaro is considered to be the last great maestro in this field. His eye-catching works span several generations and document the evolving world of cinema and the tastes of the public over the years. Some of his most memorable works include the celebrated posters for"Amadeus", "Tea in the Desert", "The Last Emperor" and the Sean Connery 007 series.
A selection of some 300 works are on show in three venues: the new National Museum Salce Collection in the Church of Santa Margherita, the San Gaetano Complex and the Civic Museum of Santa Caterina. They cover Italian and international films that illustrated landmark masterpieces by the top directors of the 20th century.
The exhibition: "Renato Casaro The Last Cinema Poster Creator – Treviso-Rome-Hollywood" runs until the end of December 2021.
Info: Tel, +39.0422591936 www.collezionesalce.beniculturali.it
---
News powered by CuteNews - http://cutephp.com