ITALY SCORES A TRIS WITH UNESCO @ 29 Jul 2021
---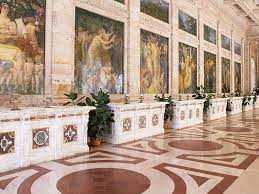 With the recent additions of Padua Urbs Picta, Montecatini Terme and the Porticoes of Bologna, Italy tops the list of UNESCO World Heritage sites, with a total 58 unique sites.
For the town of Padua, this is a dual triumph as it already has official UNESCO recognition of its historic Botanical Garden, a double honour it shares with Tivoli, which can boast Hadrian's Villa and the Villa d'Este.
Whereas the election of Padua's amazing cycle of paintings in the 14th century Scrovegni Chapel comes as no surprise, the Montecatini Spa is less well known for its art nouveau architecture and décor, placing it among the Great Spa Towns of Europe category in the UNESCO listing.
The Montecatini Spa consists of four natural hot springs, proven since 1417 to be efficacious for digestive problems. However, the spa attained world fame after it was launched in grand style by the Grand Duke Leopold of Lorena towards the end of the 19th century, when it was frequented by the royalty of Europe and major personalities of the arts. The entire complex was restructured in 1916, on the model of the magnificent Terme establishments of Ancient Rome, with a monumental entrance and decorated with sculptures, ceramic tiles and wall paintings in typical Liberty style, immersed in a huge public park.
Bologna's great network of covered porticoes stretching for a total 62 kms all round the city centre, closed the latest trio of Italian World Heritage sites nominated to the UNESCO list. A characteristic 12 kms of historic corridors were selected to represent the entire portico system.
M. STENHOUSE
Info: http://whc.unesco.org
---
News powered by CuteNews - http://cutephp.com