HOW DID VENICE COPE WITH THE PANDEMIC PLAGUE? @ 01 Sep 2021
---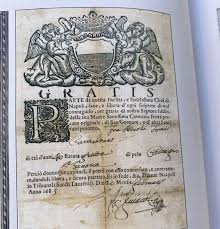 With Covid-19 still very much among us, it is interesting to see how Renaissance authorities coped with epidemics. An exhibition currently running in Venice gives a fascinating insight into the official measures taken to try to keep the deadly plague under control.
For centuries, the Plague, also known as the Black Death, decimated the population of Europe at recurring intervals. Without vaccines there was no cure, so how did societies cope? The Republic of Venice was one of the leaders in the field of 16th century prevention as illustrated in the fascinating exhibition "La Pandemica, una lunga storia: dalla Peste al Covid-19" (Pandemics, a long history: from the Plague to Covid-19) currently on show in the colonnaded entrance hall to Venice's public hospital - the Saints John and Paul Hospital, known locally as the San Zanipolo, in the Venetian dialect.
The exhibition shows a series of rare documents from the archives of the renaissance Scuola Grande di San Marco, the former seat of the St. Mark Confraternity (lay charitable institution), founded in the early Middle Ages. This magnificent building now constitutes the monumental entrance to the hospital. The documents illustrate how the authorities attempted to limit the spread of devastating infectious diseases in the past. Already in the early 16th century, the Venetian Senate introduced precautionary measures including an official pass (on display) attesting that the bearer was not a carrier of the contagion, the equivalent to today's EU Digital Covid Certificate.
No foreigners could enter Venice without this pass, which came in two forms – one for travellers arriving by land and another for those who came by sea, in which the port city of departure had been certified Plague-free. This was an important distinction as it was already known that ships were the main culprits regarding infection diffusion. A false document brought severe punishment or even the death penalty. This practice was subsequently copied by many other European cities.
The concept of quarantine was also introduced by the Venetian Senate in 1423 with the institution of the first Lazzaretto island on the lagoon, where plague sufferers were isolated from the rest of the population. Vinegar was used as a disinfectant, including full immersion in a tub, and the clothes and objects belonging to victims who died were burnt.
Little else could be done once the contagion caught on. Masks were worn and sufferers and their families would be subjected to home confinement. Evidently not much has changed during the last six centuries!
The exhibition is part of the 1600 anniversary celebrations of the foundation of Venice, which has been officially dated to 421AD. It is running until the beginning of October, with a planned digital version to be launched on the 13th September 2021
STENHOUSE
Contact: www.scuolagrandesanmarco.it
---
News powered by CuteNews - http://cutephp.com