MEDIEVAL FESTIVAL GUBBIO WITH DANTE & DYLAN etc... @ 04 Sep 2021
---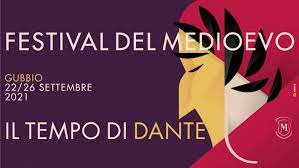 The 7th edition of the highly successful Mediaval Festival at the historic town of Gubbio (Umbria) will run between the 22-26th September 2021, and, in view of the fact this is the 600th anniversary of the death of the great poet Dante Alighieri, this year's theme will be: "Il Tempo di Dante" (Dante's Times).
The Festival, the brainchild of Umbrian journalist Federico Fioravanti, has gone from strength to strength since the first edition in 2015 and each year it concentrates on different aspects and themes.
The packed 5 day-long programme lists lectures by historians, writers and Dante experts from all over the world.
But it is not all heavy stuff. Some of the talks have intriguing titles such as "Dante between Dylan, rock n' roll and pop music", "Dante and Advertising", "Dante in Tweets," "Dante and Comics" and "The table of the Poet with the dishes set before Dante and Boccaccio".
On a more serious note, one session is devoted to "The Secret Language of Dante's Faithful" ("fans" in contemporary language) where Dante has inspired famous modern authors like Pound, Eliot, Joyce and Borges.
The Festival always devotes a section to Tolkien, the popular fantasy writer of "The Lord of the Rings", set in a magical era relating to the Middle Ages. This year, the focus will be on connections between the worlds created by Tolkien and l'Inferno of Dante Alighiere.
Festival partners include the Study and Research Centre of the Italian Historic Institute of Medievalism and the Medieval Among Us organization, with the patronage of the University of Urbino Carlo Bo.
Info & bookings at info@festivaldelmedioevo.it www.festivaldelmedioevo.it
---
News powered by CuteNews - http://cutephp.com