THE MARUCELLIANA LIBRARY – FROM RAPHAEL TO MICKEY MOUSE @ 10 Jan 2022
---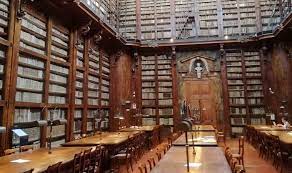 Dario Franceschini, Italy's Minister of Culture (MIBAC) has turned the spotlight on the long neglected libraries spread around the various regions, underlining the vital contribution they have made to the spread of knowledge and general culture.
This month is concentrated on the versatile but little known Marucelliana Biblioteca of Florence, founded by the Abbot Francesco Marucelli and opened to the public in1752. Over the years, the library has continued to add to the original collection of over 6000 volumes, including 53,000 prints and 3,200 drawings donated by the Abbot's nephew Alessandro and the last descendent of the family, Francesco Di Roberto. These include anatomical studies by Raphael and a 17th century sketch book by Roman artist Ottavio Leoni with portraits of the leading artists, sculptors, men of letters and scientists of the day, including Caravaggio.
The library, however, has always continued to pay attention to the trends of the times, with a copious collection of books of industrial design and cultural magazines of more modern times. A special attraction is the tribute paid to Disney's Mickey Mouse, who debuted in an Italian weekly magazine under the name "Topolino" in 1932, illustrated over the years by teams of leading Italian graphic artists and is still eagerly followed by Italian children (and older!) today.
STENHOUSE
Info: Tel. +39.055.2722 200/255 maru@beniculturali.it
---
News powered by CuteNews - http://cutephp.com