HISTORIC TRAINS TO RUN AGAIN @ 28 Jun 2020
---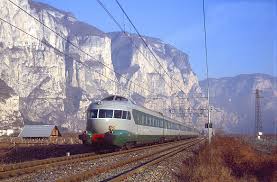 The Fondazione Ferrovie della Stato Italiane (Italian Railways Foundation) has announced the return of two celebrated Italian historic trains – the Settebello (Seven of Diamonds) and the Arlecchino (Harlequin), which operated in the 1950s and '60s.
The ETR 302, better known as the Settebello, was a mythical electric train, launched in 1952, and considered the last word in luxury, with fitments designed by Gio Ponti and Giulio Minoletti. The train is to be faithfully reconstructed, with the same interiors and colour schemes. The only variation will be the installation of modern safety features.
The ETR 250, or Arlecchino, which originally entered service in 1960 to mark the Rome Olympics, had been abandoned on a siding till it was rescued by the Italian State Railways Heritage Foundation in 2016. it is now being restored at the Officina Meccaniche Segni workshops at Porrena (Tuscany).
Both trains will be used for special tourist trips, to join the increasingly popular historic train routes in various areas of Italy. In 2018, 83,000 people bought tickets for vintage train services.
Info: www.fondazionefs.it
---
News powered by CuteNews - http://cutephp.com