TURIN: MUSEUMS & XMAS LIGHTS OPEN DESPITE COVID RESTRICTIONS @ 03 Nov 2020
---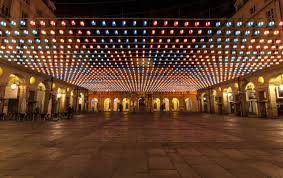 The city of Turin has launched its traditional Christmas light Show "Luci d'Artista" (Artists' Lights) despite the problems of the current pandemic.
The event, which involves creative illuminated installations all over the city centre and the suburban areas, has been running uninterruptedly since 1998 and in normal years draws tourists from all over Italy and Europe.
In addition, Turin is keeping its most important museums open, although the usual evening visits to the Musei Reali (the Royal Collection) are temporarily suspended. From Thursday to Sunday between 9-19 hours, it is possible to visit the Royal Palace with its celebrated arms collection, the Sabauda Gallery and the Museum of Antiquities, as well as the Chapel of the Sindrone (the Holy Shroud), where it is possible to watch restorers at work.
The exhibition "Sulle Tracce di Raffaello" (On the Traces of Raphael) in the Sabauda collection, set up in the internal courtyard of the Sabauda Gallery, will run until the 14th March 2021. The ticket is included in the entrance to the Musei Reali.
Info: museirealitorino@spin-to-it www.guidatorino.com/eventi
---
News powered by CuteNews - http://cutephp.com