RIDE WITH SAN LEONARDO AT ALTA BADIA @ 28 Oct 2023
---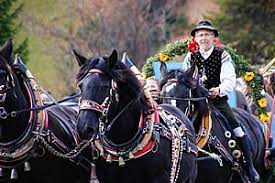 RIDE WITH SAN LEONARDO AT ALTA BADIA
The San Leonardo Ride is a highlight of the autumn season in the charming mountain villages of Alta Badia (Bolzano, South Tyrol) in the Dolomite mountain range. St. Leonard is the patron saint and every year his feast day is celebrated with a colourful procession of citizens and farmers in traditional costume, riding the local Haflinger and Norica horses.
This exclusive breed is an integral part of the culture of the area, where these sturdy and placid-natured animals adapt to all kinds of tasks, from pulling carts on farms to trekking trips with children. In their free time, the horses are left free to graze on the mountain pastures.
The Feast of St. Leonard is programmed for the 5th November 2023 and over a hundred riders and breeders will flock to Alta Badia for the event, which includes the blessing of the horses at the Church of San Leonardo, followed by a long procession through the valley villages with band music, dancers and the gastronomic specialities of the region. This year, for the first time, the event will be partnered by the Verona Horse Fair (9-12 November), the most important horse fair in Italy.
A special highlight of the Feast will be the dashing joust dedicated to the one-eyes medieval overlord Oswald von Wolkenstein, a local warrior, poet, singer and writer
Info: Tel. +39.0471.836176 www.alta-badia.org
---
News powered by CuteNews - http://cutephp.com