THE FLIGHT OF THE LAST STUART KING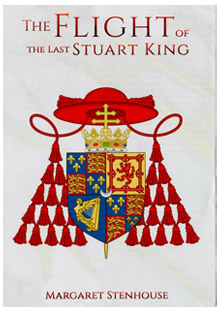 In 1798, when Napoleon invades Rome, Cardinal Henry Stuart, the last direct heir of the royal House of Stuart, is forced to flee south to seek refuge in the Kingdom of Naples. This is only the beginning of an adventurous two-year journey that drives him on to Sicily, Corfu, Padua and Venice, bringing him into contact with many key figures of the period, like Horatio Nelson, Lord and Lady Hamilton, the volatile Queen of Naples, the spy master Spiridion Foresti, the Ottoman commander Bey Abdul-Kadir and the reluctant Pope Pius VII, elected after a stormy conclave and crowned with a papier-maché tiara.
Set against the background of the Napoleonic wars and one of the most turbulent periods of change in European history, the flight of Henry IX, the Jacobite's last Stuart king, is a little known and extraordinary story.